The Vizzybell motto is "Innovation In Fire Safety."
Their Nexit sign is designed to improve safety when people are evacuating a building.
We got the exclusive chance to talk with Vizzybell CEO Brent Bell to get a bit more of an understanding about the product.
Chelsey: What is the number 1 benefit of having the Nexit signs in buildings?
Brent: People will be given clear and precise information about a safe refuge and egress within a building with no ambiguity. The one NEXIT unit also replaces two units; therefore, installation and maintenance costs are reduced.
Chelsey: Where did Vizzybell first get the idea for the Nexit sign?
Brent: My father Alastair and I run a building compliance company called 'NZ Fire and Compliance Ltd.' We do a lot of work with District Health Boards (DHB's) and aged care facilities around the country.
These organisations perform staged/defend in place fire evacuation strategy. During this situation, occupants evacuate from one area of the building to another that is protected by fire separations and a sprinkler system that are designed to accommodate certain occupancy loads.
Working in these buildings, we noticed that there was either no signage to indicate if a certain area of the building was no longer safe due to the origin of the fire, or that the signage was conflicting in the information it relayed. e.g. there would be a normal EXIT sign with a FIRE ALARM DO NOT ENTER sign flashing next to it.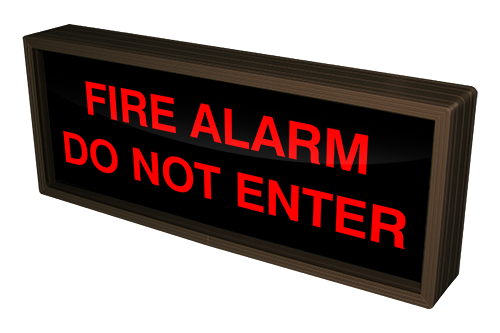 Alistair set out to solve this problem by creating one unit that would provide clear information by way of a sign that could either be a Green EXIT or a Red flashing NO EXIT.
Chelsey: Why are the existing exit signs flawed?
Brent: During an emergency situation people are under pressure, and don't always make the best decisions. Under the current solution of an EXIT sign next to a FIRE ALARM DO NOT ENTER, people that are unfamiliar with the building might follow the EXIT sign and ignore the FIRE ALARM sign.
We also believe that the current situation does not comply with the NZ Building Code , but has been allowed as an alternative solution as a better alternative was not immediately available in the market place.
Chelsey: Can you tell us a bit more about the design of the Nexit Sign?
Brent: Two key factors in the NEXIT design were…
Providing a unit that had great functionality
Having a sign that had a more sleek, contemporary design to suit modern buildings.
The units meet the requirements of AS/NZS 2293.1:2108 'Emergency Lighting and Exit signs for buildings and we can achieve in excess of 4 hours whilst running on battery alone which far exceeds the requirements for a hospital situation.
The unit has also passed all relevant compliance testing to AS/NZS 60598.2.22 "Luminaries for Emergency Light" by Spectrum Laboratory and EMF inter-refence tests.
Chelsey: The Next Sign also links up to the fire alarm system? Was this something which was intentionally done based on past experiences?
Brent: Yes. This was always going to be the key difference of the NEXIT sign. The unit connection is by a simple relay triggered by the fire alarm to switch it from EXIT to NO EXIT.
Chelsey: How many Nexit signs you can have in a building linked up to the main fire alarm system at any one time?
Brent: The number of signs is endless really. As the building grows, so do the fire alarms panels that monitor it and therefore you can control more EXIT signs
Chelsey: What are the 5 benefits organisations get from having the Nexit sign in their work buildings?
Brent: The 5 biggest benefits are…
The NEXIT replaces two units with one and therefore there is a cost saving.
Staff and occupants of the building, especially visitors can make more confident decisions about safe egress routes and places of refuge.
The units comply with the New Zealand Building Code.
The design of the NEXIT is sleeker and more contemporary, so is well suited to the modern design of buildings.
Chelsey: How does the Nexit sign comply with the NZ Building Code Standards?
Brent: In New Zealand, EXIT signage must comply with clause 'F8 Signs', which states
F8.1. The objective of this provision is to:
(a) Safeguard people from injury or illness resulting from inadequate identification of escape routes, or hazards within or about the building
(b) Safeguard people from loss of amenity due to inadequate direction
(c) Ensure that people with disabilities are able to carry out normal activities and processes within buildings
The Vizzybell NEXIT clearly identifies the correct and safe escape route during an emergency situation and occupants can clearly identify a safe egress route and place of refuge (a 'safe place' as determined by the 'Evacuation of Building Regulations').
F8.2. Signs must be provided in and about buildings to identify:
(a) Escape routes
(b) Emergency-related safety features
(c) Potential hazards, and
(d) Accessible routes and facilities for people with disabilities
The NEXIT by either being in a solid Green EXIT or Flashing Red NO EXIT mode eliminates confusion and clearly identifies safe egress routes during a fire emergency
F8.3.1 Signs must be clearly visible and readily understandable under all conditions of foreseeable use, including emergency conditions,
F8.3.2 Signs identifying potential hazards must be provided and located so that people encounter the signs before encountering the potential hazard.
This is where the NEXIT really excels over other solutions, being that the NEXIT is dynamic in its ability to immediately change states via the input from the fire monitoring system within the building to clearly identify safe and unsafe areas of the building, whilst portraying this information in a precise manner.
We believe that the NEXIT has covered all areas of the building code requirements and very simply connects to the currently installed fire alarm monitoring systems with ease to ensure that no extra cost burdens the clients.
Chelsey: Brent, thank you very much for your time today.
Brent: It's a pleasure.